It's beginning to look and feel a lot like Christmas in Greater Palm Springs! Here are some fun ideas for gifts and stocking stuffers for everyone on your list. From unique finds to chic presents and more, this 2021 holiday gift guide is full of local shopping resources for the festive season.
In the spirit of giving, it is always good to give back to local businesses by showing your support. What better way than downloading this freeLove Local Shopping Pass? When shopping, make sure to check in at the store and receive a free gift, additional discount or more. For every check-in, Visit Greater Palm Springs will donate $1 to theFIND Food Bank, plus there will be a sweepstakes at the end of the season. Keep building the circle of giving and enjoy your shopping adventures!
Local Shops
Show family and friends just how much you truly care for them by shopping at some of our favorite local Greater Palms Springs stores and locales to score the perfect holiday gifts. Discover more local shops and businesses to support and hear about theirpersonal stories.
Thick As Thieves
Spoil your friends and family with one-of-a-kind home décor, jewelry, clothing, accessory pieces and more while shopping atThick As Thievesin Palm Springs.
Destination PSP
Searching for modern housewares, décor, books, travel items and apparel?Destination PSPin Palm Springs is the place for you. This shop also provides shoppers with an amazing selection ofModernism Weekbuys and must-haves.
Trina Turk and Mr Turk
With storefronts located in both Palm Springs and Palm Desert,Trina TurkandMr Turkoffer stylish and chic clothing pieces, accessories, home décor, gifts and more.
Rancho Relaxo
Find something for everyone atRancho Relaxoin Rancho Mirage. The shop offers apparel options for all with their home décor, apothecary goods and items for kids as well, plus more.
Ice Cream & Shop(pe)
Sweets and Palm Springs treats like pool floats, paper goods, jewelry and gift items are all waiting for you atIce Cream & Shop(pe)in Palm Springs.
TRU Self Care Boutique
ShopTRU Self Care Boutiquefor bohemian fashion, jewelry and self-care products.
Brandini Toffee
Give your loved ones a taste of the sweet life with toffee candy treats and popcorn fromBrandini Toffee。Store locations can be found in Rancho Mirage and Palm Springs.
Joshua Tree Candle Company
Want to bring a piece of the destination home?Joshua Tree Candle Company是一个本地的商业制造和销售desert-inspired candles in scents such as Yucca Bloom, Ocotillo Sunset, Cactus Flower and more.
El Paseo Shopping District
El Paseo Shopping DistrictcomprisesThe Shops on El Paseoand在El花园Paseo。在一起,这个地区带来高端游客hopping experiences and various unique stores to help them find the ideal holiday present. Find gifts for everyone here; the fit and active, the home decor lovers, the sports pros, the makeup artists and the list goes on. Don't just come to shop, though. You will find yourself walking into a winter wonderland, filled with decorations, occasional fake snow, holiday movies on the lawn and don't forget about the diverse and delicious culinary scene that flows throughout this street.
Old Town La Quinta
Old Town La Quinta, a charming shopping district reminiscent of a European village, offers a picturesque setting for browsing over 30 locally owned boutiques, shops and salons. You'll find everything from one-of-a-kind apparel and gifts to home décor and artisan olive oils.
The Shops at Thirteen Forty Five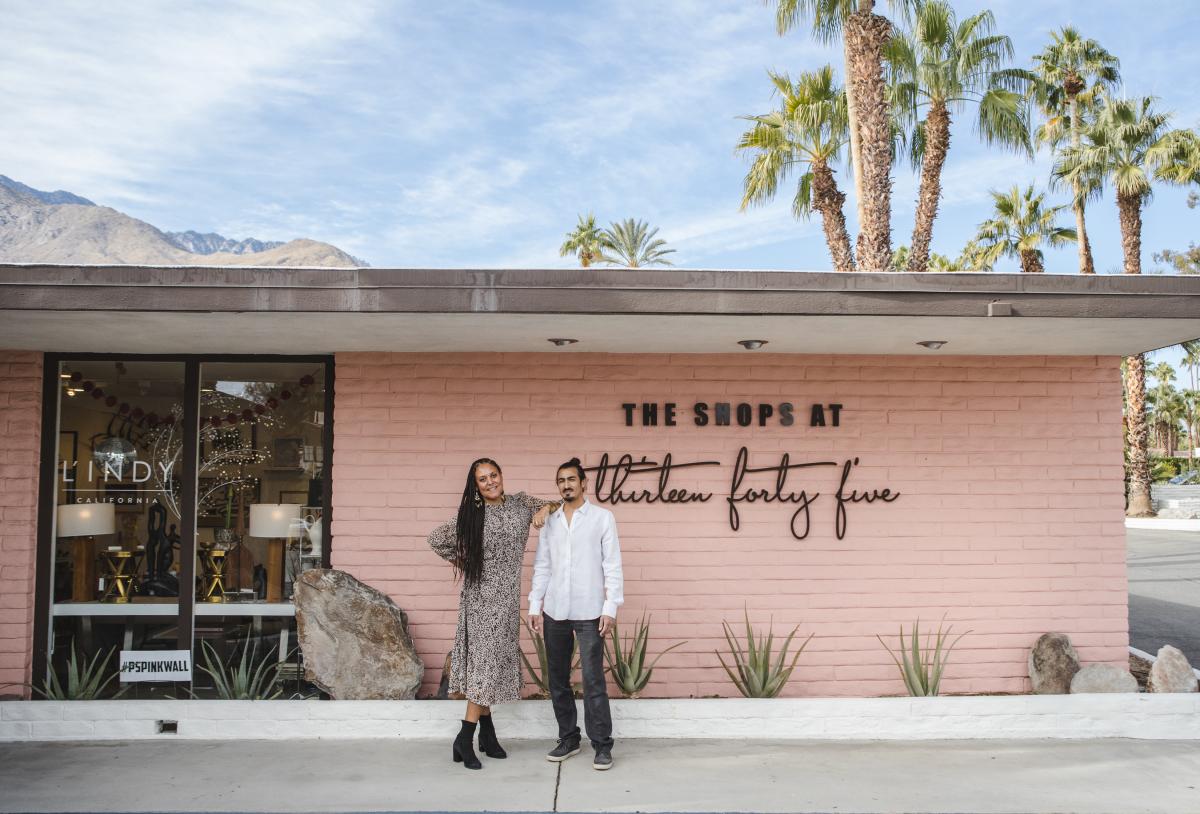 Photo Courtesy of Mel Bell Photography
VisitThe Shops at Thirteen Forty Fivein Uptown Palm Springs for a collection of luxurious shopsthat contain modern furniture, home décor, apparel, handmade ceramics, plants and more, all in one location.
More Local Shops in Greater Palms Springs
The Desert Life Collective| locally-made coconut wax candles
H2o Closetin La Quinta | skin care, home fragrance, wellness
Just Fabulousin Palm Springs | books, art, cards, home décor
Elizabeth & Princein La Quinta, Palm Desert & Palm Springs | clothing, shoes, accessories
West Elmin Palm Springs | home décor, modern furniture, bedding
Pelagoin Palm Springs | housewares, home décor, jewelry, accessories
SHAG the Storein Palm Springs | artwork, glassware, accessories
Plan your shopping itinerary in this shopper's paradise. With the array of shops that are located in Greater Palm Springs, you are bound to find something for everyone on your list here!Click hereto discover all the different shops.
Vintage Gifts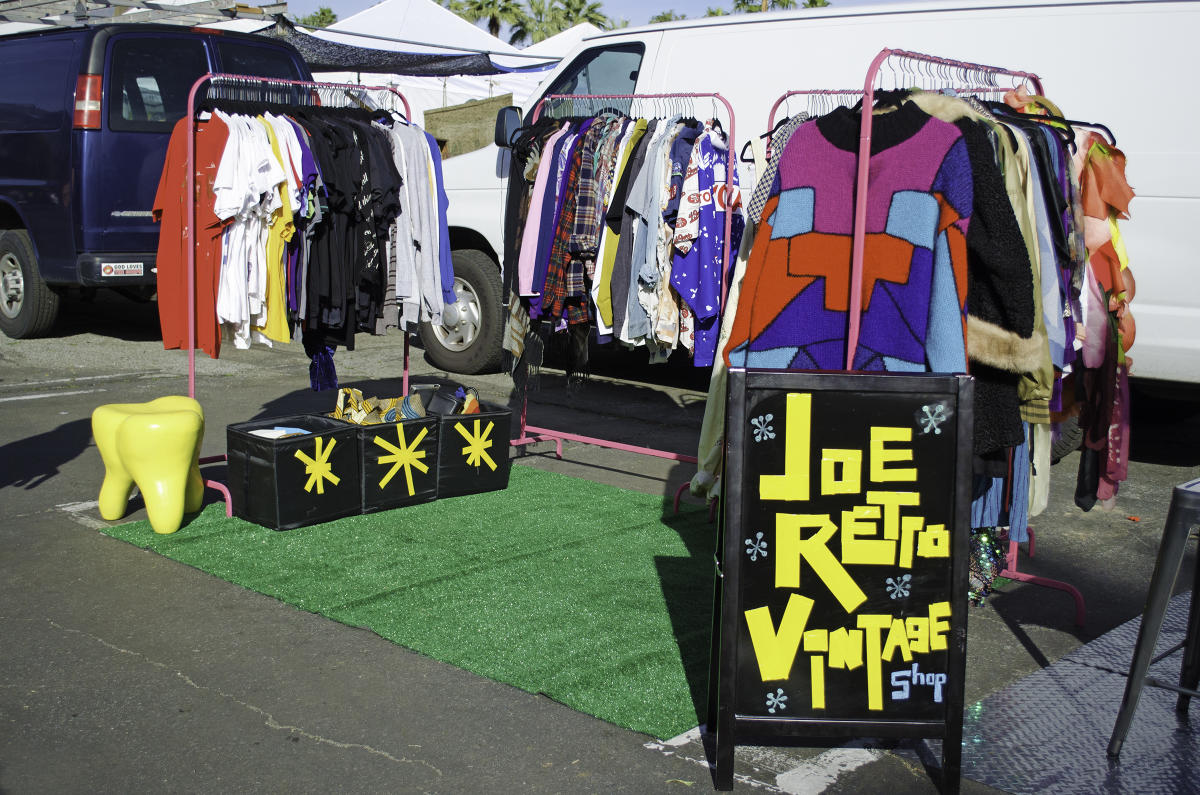 Do you have a vintage lover that you're shopping for? If so, we have you covered on merry items for them, too! Check out all of thesevintage shopsin Greater Palm Springs.
Palm Springs Vintage Market
Explore the latest and greatest collection of vintage furniture, clothing, décor and other collectibles in Greater Palm Springs through thePalm Springs Vintage Market。The outdoor market takes place every first Sunday of the month at the Camelot Theater/Palm Springs Cultural Center parking lot in Palm Springs.
The Frippery
AtThe Frippery Palm Springs, you can shop vintage clothing and accessories in styles that include mod, resort, bohemian and a little rock 'n roll.
The End in Yucca Valley
The coolest vintage items, handmade creations and art can be found atThe End in Yucca Valley。
If you're planning a holiday trip to Greater Palm Springs this season read more aboutholiday happenings in 2021。